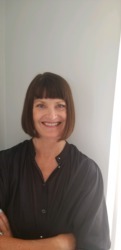 Cyndi has spent her career in fashion developing fabrics for major apparel manufacturers such as  Michael Kors, Calvin Klein, and Nine West.
She has a keen, trained eye for design, color, and textiles.  She is also trained as a Certified Interior Decorator and has now transitioned her time and talents to the real estate market.
She is excited to start a new phase in her career as a Real Estate Salesperson helping her clients go through the process of buying or selling their homes and offering to help with the design aesthetic as needed.